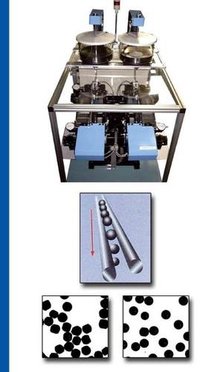 ROTTARY DISC SHORTING MACHINE
Product Description
FEATURES:-
Ultra-presion classification of all types of balls including alloy,ceramic,solder,plastic,and glass types.
100% inspection capability.
un-manned operation reduces personal needs.
low maintenance costs.

SPHERIACAL DIAMETER MEASURING & SELECTION MACHINE:-
Measuring and selection range from 300 to 1,000 microns (can also process ball less than 300,and even down to 100 microns diameter).

Measurements Precision

True round balls can be measuredown to 1 micron ccurately in acontinuous automated opertaon.

Roller measurment Precision