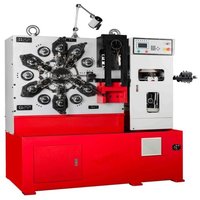 CNC Forming Machine
Price And Quantity
2500000.00 - 6000000.00 INR
Product Description
Advantages of CNC Machining Over Conventional Machining

The conventional machines in used personal shop or business have a few benefits, similar to CNC machines. One must consider adding a CNC machine to in the production processes, so as to grab some advantages, like the ones explained under:

1. No Need for Extensive Experience or Skills

The operation of conventional machines is not easy for a novice user. It requires a long period of experience for operation and getting the most out of. Experience is a great benefit for CNC machines, but in some cases it might not be as essential as conventional machines. With elimination of human error factor, one can maintain production quality using CNC machine. In fact, both machined require training, one can consider the fact that which one will maximize the production with a minimum amount of training.

2. Products Can Be Replicated Hundreds to Thousands of Times

For making a single custom piece, conventional machine is right option. But in cases when one has to produce the same part multiple times, CNC machine works well in the situation. One can program the machine to make the same cut again and again with a repeat in quality. For making of similar pieces using conventional machine, one must need an experienced operator. In conventional machine, consistency in quality and dimensions is difficult to achieve.

3. Less Labor to Operate CNC Machinery

With CNC machines in-house, one needs less labor to perform operations, thus can cut labor cost. While conventional machine requires knowledge, experience as well as skill, which can elevate the labor costs. With CNC machine, quality, cost effectiveness and high production levels can be achieved.

4. CNC Software Increases Production Options

With advanced software, one can make complex products which are nearly impossible to make by hand or using conventional machine. For further improvement in CNC machine's functionality, the software can be updated. In conventional machine, there is little to no software and it doesn't allow one to achieve a repeatable cut quality.

5. No Prototypes Required with CNC Machines

With CNC software, one can simulate the idea even before cutting it out. One do not has to produce a prototype, which could cost both, time and money. Using software, the time for creating revision can also be reduced. Through this, one can save weeks or even months of production time and spend the labor any where else.

6. CNC Machines Fit the Skills of Today's Workers

The mathematical and analytical skills required to run a conventional machine are not taught in school with much emphasizes. Therefore, there is less skilled workforce available. In this digital age, tech savvy operators are running the machines.

Based on the business or industry, workforce is learning the operations of both types of machines. The user should choose the machine which better fit his requirement as well as future production demand.